Madera indiv. Eschemaser weiss
BMW 428i F33
Cabrio EE.UU.
N20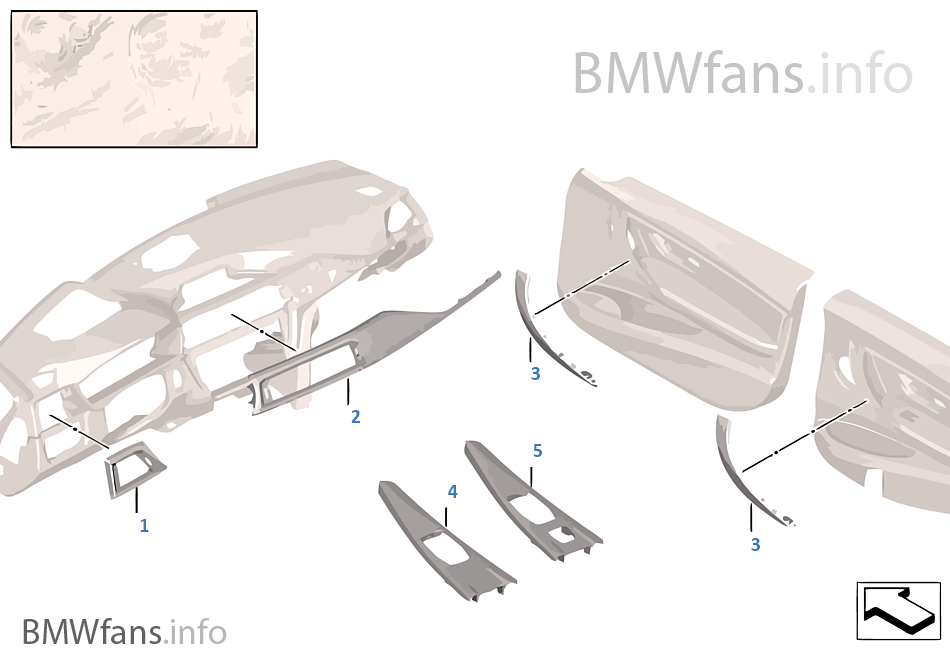 Complementar
---------------------------------------- ¡Atención! En vehículos personalizados se montan También piezas de serie. Previamente debe asegurarse que la pieza De repuesto requerida no sea una pieza De serie.
---------------------------
Para vehículos con
Deseo especial equipamiento (
S940A
)
= Sí
O
Madera noble fresno vet indivi. blanca (
SXEXA
)
= Sí
#
Descripción
Número de parte
Complementar
Fecha

Cantidad

Peso
Precio

EUR

Moldura madera panel instrumentos izq.

1

de jul '12
1
Moldura madera panel instrumentos der.

2

de jul '12
1
Moldura manilla izquierda

3

de jul '12
1
Moldura manilla derecha

3

de jul '12
1
Moldura de adorno para consola central

5

de mar '14
1
The contents of the BMW parts & accessories catalog provided for acquaintance purposes only.
Part numbers, descriptions, prices and applicability information have been obtained from public sources on the Internet. We are not responsible for any data inconsistency and possible inconvenience caused. Contact your local parts supplier to get precise information about parts.